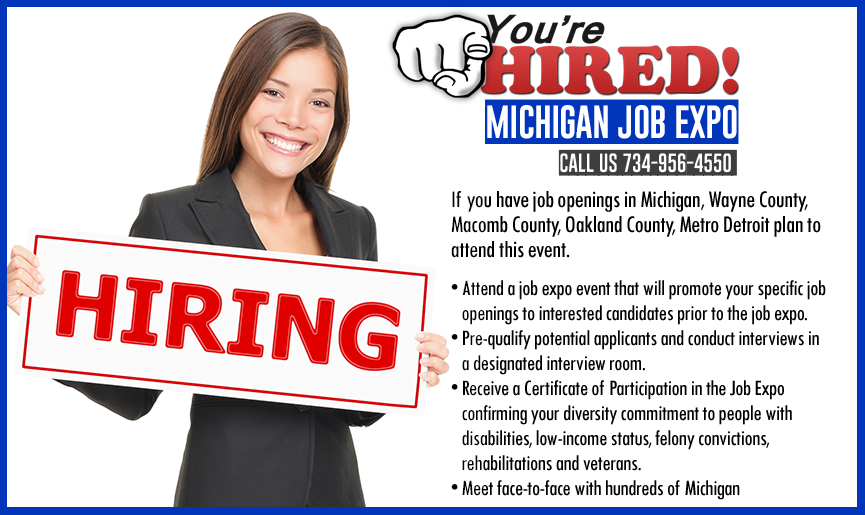 Employers: Interview and Hire Qualified Candidates
Do you have full-time and part-time jobs? Looking for qualified candidates now? This event will connect you with experienced candidates, currently employed candidates, college graduates, recent college graduates, skilled trade candidates, military veterans and entry level candidates.
If you have job openings in Michigan, Wayne County, Macomb County, Oakland County, Metro Detroit plan to attend this event.
Attend a job fair event that will promote your specific job openings to interested candidates prior to the job fair.
Pre-qualify potential applicants and conduct interviews in a designated interview room.
Meet face-to-face with hundreds of Michigan candidates.
Support efforts to hire diversity employees.
Employer Exhibitor Perks:

6 ft. table with linen and chairs breakfast and lunch for companys representatives.
Your 500-word company description and open positions featured on MichiganHotJobs.com.
Featured advertising in national Youre Hired Job Magazine read by millions of candidates worldwide.
Valued Employer Online Web Banner on JobFairGiant.com
Opportunity to distribute recruiting material at event.
Logo and link to your company on JobFairGiant.com
Access to exclusive candidates resumes database.
Free access to wireless internet.
Designated Interview area.
Reserve Exhibitor Booth. ☎ Call Us (734) 956- 4550 ☛ Email: sales@jobfairgiant.com