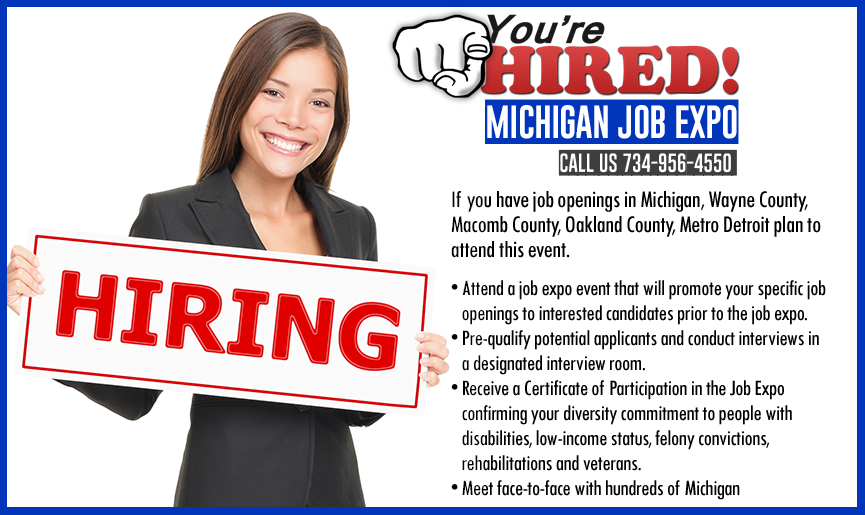 Employer Registraton For Michigan Job Expos. Call For Pricing (734) 956 4550
Do you have full-time and part-time jobs? Looking for qualified candidates now? Our events will connect you with experienced candidates, currently employed candidates, college graduates, recent college graduates, skilled trade candidates, military veterans and entry level candidates.
If you have job openings in Michigan (Statewide), Flint Area, Ann Arbor Area, Monroe, Lansing, Lapeer, Livingston County, Western Wayne County, Grand Rapids, Gaylord, Port Huron, Chesterfield, Oxford, Wayne County, Macomb County, Oakland County, Metro Detroit plan to attend this event.
We promote your specific job openings to interested candidates prior to the job expo.
Receive a Certificate of Participation in the Job Expo confirming your diversity commitment to people with disabilities, low-income status, felony convictions, rehabilitations and veterans.
Meet face-to-face with hundreds of Michigan candidates. Virtual or Live Events
Support efforts to hire diversity employees.
Employer Exhibitor Perks:

You're Hired! Job Show Sponsorship - reach 900,000 people weekly podcast show.
6 ft. table with linen and chairs breakfast and lunch for companys representatives.
Your 500-word company description and open positions featured on MichiganHotJobs.com.
Valued Employer Online Web Banner on JobFairGiant.com
Opportunity to distribute recruiting material at event.
Logo and link to your company on JobFairGiant.com
Access to exclusive candidates resumes database.
Free access to wireless internet.
Designated Interview area (Live Events).

Who Are Our Customers

What type of employers are invited or can be expected to exhibit at the You're Hired! Job Expos? Our monthly diversity job fairs attract employers from both the public and private sectors, including:

Small Local Business
Fortune 500 Companies
Fortune 1000 Companies
Government Organizations
Associations
Not-for-Profit Organizations
Colleges and Universities
Any company with job openings nationwide, statewide and local.

Reserve Exhibitor Booth. ☎ Call Us (734) 956- 4550 ☛ Email: sales@jobfairgiant.com